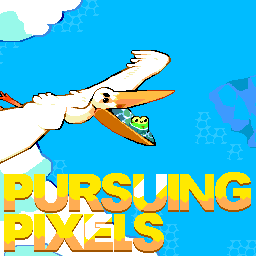 Welcome back to Pursuing Pixels.  John's still exploring the world of modular synthesizers, and finds a new use for his Wii Nunchucks in the process.  Kevin & John have both hyped up Lazy Galaxy: Rebel Story in the past—another game included in the itch.io bundle—but Randall isn't quite as impressed.
Speaking of the bundle, Kevin is still plugging away!  First, it's WitchWay, a deceptively cute puzzle-platformer about rescuing bunnies...yeah, it's that cute!  After that, it's Blitz Breaker, an arcade, action-platformer where running is not an option.
We wrap things up with a discussion on Firewatch, which John finally gets around to and can't wait to dig in with Randall, who's also played through the majority of the game.  We do get into some story spoilers towards the very end of the episode, but there's very ample warning, along with a timestamp below.
Discussed:
Modular Synthesizers (w/ Wii Nunchuck) - 00:00:59
Lazy Galaxy: Rebel Story - 00:05:01

WitchWay - 00:12:31

Blitz Breaker - 00:18:12

Firewatch - 00:24:34
-----> *Spoilers - 00:30:41*
Thanks so much for taking the time to listen!  If you'd like to find us elsewhere on the internet, you can find us at:
Come and join us on our Discord server!