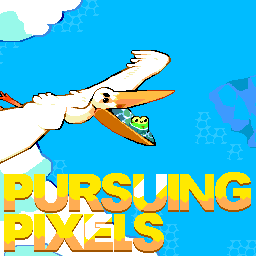 Welcome back to Pursuing Pixels.  DJ kicks us off this week with a trifecta of games that he's been playing since we chatted last.  He's conquered Civilization VI from virtually every angle, earned a victory in PlayerUnknown's Battlegrounds, and started up DOOM: Eternal—and he's encouraging us all to check it out!
Speaking of conquering games, Randall finally wraps up Monster Boy & The Cursed Kingdom and shares a few general metroidvania thoughts after seeing the credits roll!  And now that Monster Boy is wrapped up, he's hopping back on the board for some more Tony Hawk Pro Skater 1 + 2 HD.
John scooped up inbento from Afterburn games right before we started recording and got sucked into the clever puzzle mechanics, wordless storytelling, & super cute aesthetics.
Kevin closes things out with Indivisible, a sidescrolling platformer with turn-based combat that draws close comparisons to the Mario & Luigi series of RPGs on Nintendo's handheld consoles.
Discussed:
Civilization VI  -  00:01:55

PlayerUnknown's Battlegrounds  -  00:06:42
DOOM: Eternal  -  00:10:04
Monster Boy & The Cursed Kingdom  -  00:13:15

Tony Hawk Pro Skater 1 + 2 HD  -  00:17:50
inbento  -  00:24:04
Indivisible  -  00:33:30
Thanks so much for taking the time to listen!  If you'd like to find us elsewhere on the internet, you can find us at:
Come and join us on our Discord server!