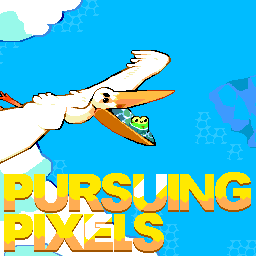 Welcome back to Pursuing Pixels.  First things first, you're probably going to hear a little bit of crackling in the background this week (particularly in the back half of the episode), due to a janky mic cable that has since been replaced.  That said, let's get to the video games!
Kevin's been spending some more time hanging out in the SELF discord, also known as 'the bugcord,' and couldn't wait to check out the game's first patch, featuring some seriously challenging new levels!  And thanks to the bugcord community, he also discovered the lovely little platformer, Clockwatch, from Aplove Studio.
Randall has been diving head first into his collection of homebrew retro cartridges lately, and this week he takes some time to highlight Tanzer, another modern Sega Genesis/Mega Drive release from Mega Cat Studios.  Bouncing off of that, Kevin quickly highlights Magnet Man Adventures from Ohsat Games, who is another indie developer that plays around in the retro Sega realm.
John is digging deeper & deeper into Stardew Valley and getting into some of the endgame activities, as he continues to be blown away by the ongoing efforts of ConcernedApe.
We wrap things up with a little more Wild Guns talk, which Randall & Kevin had a chance to stream earlier in the week...and made it all the way to the final boss—John even hopped in on the call and hung out with us for a bit!  Kevin also debates streaming some Aztec Ride: Quetzalcoatl in the future, after getting totally hooked on it before recording the episode tonight.
Timestamps:
SELF (update patch #1)  -  00:02:05

Clockwatch  -  00:06:52

Tanzer  -  00:09:57
Magnet Man Adventures  -  00:18:18

Stardew Valley (endgame?)  -  00:21:36

Wild Guns  -  00:30:27
Aztec Ride: Queztalcoatl  -  00:34:28
Thanks so much for taking the time to listen!  If you'd like to find us elsewhere on the internet, you can find us at:
Come and join us on our Discord