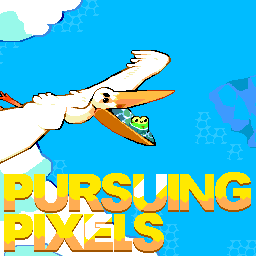 Welcome back to Pursuing Pixels.  We've got ALL sorts of games to talk about this week, so let's dig right into the action…
We kick things off this week with a spotlight on Starjump, a brand new top-down precision platformer (you don't see those everyday?!?) on the PICO-8 fantasy console.  The game even has its own atmospheric OST that you can pull up on YouTube while you play!
From there, DJ fills us in on the things he's been playing lately, including crossing off his resolution game for this year, Deltarune.  On top of the follow-up to Undertale, we also touch on Baba is You, both games in the Yooka-Laylee franchise, and a few of the games from the classic Bit.Trip series.  He also gives some love to Days Gone, after getting sucked into this world a little more than another zombie-themed game on the PlaySation that we won't mention here...
Kevin finally gets into a deep discussion on a couple of roguelikes that he's been bouncing back and forth between, ScourgeBringer & West of Dead.  ScourgeBringer is scratching the 'hectic action' itch, while West of Dead offers up a more strategic & stealthy approach, making these two games a perfect pairing—both of which are absolutely dripping with style!
Finally, John is still plowing his way through Dark Souls III, as he continues to update us on his journey through FromSoftware's flagship franchise.  He & DJ also dig a little into the pros & cons of each game in the trilogy (and the other Souls-like games) and look forward to checking out some of their non-Souls games next...
Timestamps:
Starjump  -  00:01:00
Baba is You  -  00:05:34
Yooka-Laylee (2D & 3D)  -  00:07:33
Deltarune  -  00:15:35
Bit.Trip Series  -  00:17:57
Days Gone  -  00:25:00
ScourgeBringer  -  00:32:58
West of Dead  -  00:37:11
Dark Souls III  -  00:40:20
Thanks so much for taking the time to listen!  If you'd like to find us elsewhere on the internet, you can find us at:
Come and join us on our Discord