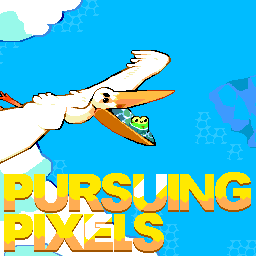 Welcome back to Pursuing Pixels, and welcome back to another edition of 'Save it for the 'cast!'
Just like last time, Kevin kicks things off by spotlighting a handful of indie games before we roll into bulk of the episode—including a game from the recent itchio Bundle for Palestinian Aid, a demo for an upcoming Kickstarter campaign from out pal, Eli, and a couple of precision platformers that we took a look at alongside our friends in The Indie Game Collective.
After Kevin gets the indie spotlights out of his system, it's onto another behind the scenes conversation that goes all over the map—including everything from Mario's FUNdamentals (aka Mario's Game Gallery), to the ongoing recent struggles of Detroit's sports teams...and you know if sports come up, you won't be able to keep Randall & John away from a little NBA chatter!
Timestamps:
Grapple Force Rena  -  00:00:30
Soulchild  -  00:02:21
Dojoran  -  00:04:01

Super Cable Boy  -  00:05:40
Thanks so much for taking the time to listen!  If you'd like to find us elsewhere on the internet, you can find us at:
Join us on Discord