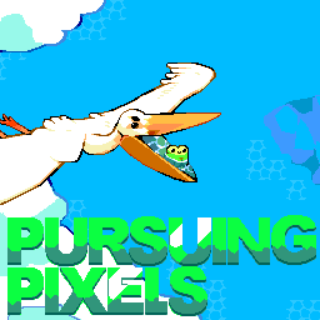 Welcome back to Pursuing Pixels.  This week, Kevin is the only 'Pixel' in the building—but our pal (and incredibly talented game developer) dev_dwarf was gracious enough to spend some time chatting indie games with us before we dug into a deeper discussion/interview with him about his games & process, which will be out next week!
We're obviously big fans of what the folks over at PUNKCAKE Délicieux are doing, after being in love with their first game, Antecrypt, and having a lovely chat with Rémy Devaux on the podcast a few weeks back—and their second monthly game, Metavaxx, is continuing the trend of awesomeness, blending the strategy of Minesweeper with the frantic action of an arcade shmup!  It even led to a few 'Morkalb teaches Minesweeper' sessions over in our Discord lately, which was a ton of fun! :D
dev_dwarf had the opportunity to check out the demo for PRODUCER (2021) from indie dev prodigy, Stuffed Wombat, which is shaping up to be quite the 'one-of-a-kind' experience—we also gave Gutwhale, and a couple of Wombat's other games some love, as well!  After that, Dwarf tells Kevin (and the rest of us) why we absolutely need to check out the Hylics games, a delightfully bizarre series of RPGs that flaunts an impressive & unique claymation art style.
Before we wrap things up, Kevin rants a little bit more about his disappointment in Mario Golf: Super Rush, before cleansing the palette with Part Time UFO, a lesser-known first-party game on Nintendo Switch (and mobile) from HAL Laboratory. 
Timestamps:
Antecrypt  -  00:02:52
Metavaxx  -  00:04:07
---> Minesweeper  -  00:05:05
PRODUCER (2021)  -  00:12:52
---> Gutwhale  -  00:15:52
---> qomp  -  00:21:54
Hylics 1 & 2  -  00:23:45
Mario Golf: Super Rush  -  00:34:44
Part Time UFO  -  00:37:54
Thanks so much for taking the time to listen!  If you'd like to find us elsewhere on the internet, you can find us at:
Join us on Discord