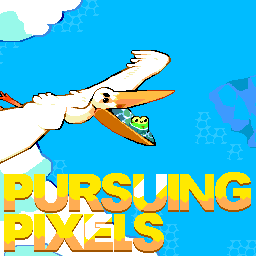 Welcome back to Pursuing Pixels.  This week, we are fortunate enough to be joined by yet another indie game developer, Matt Glanville!  We've raved about pretty much all of Matt's games on the podcast in the past, and it is truly an honor to have him on the show to talk about some video games—and he'll be on again next week for a more in-depth discussion about his work!
In the meantime, Matt & Kevin have both been playing some SNKRX and admiring its deep, but simple design—and have a strikingly similar experience with the game.  And while we're on the topic of shmups, Matt also fired up Alien Death Mob after we mentioned it a few weeks ago on the podcast...he's getting his butt kicked too!
From there, we talk about a couple of incredibly charming, and deceptively tricky, retro-inspired platformers—Miles & Kilo, which we've raved about on the podcast before, and Mekabolt, which is the first game Kevin has actually 'beat' in quite some time!
Speaking of things we've discussed on the podcast before, Matt is sinking his teeth into the Picross S Series that John has sang the praises of many times before.  He's also been getting some casual gaming in with a little one of his own, and getting some mileage out of some cute & playful Nintendo Switch demos with his son!
Finally, we wrap things up with Snakebird Primer after bringing up the game's far more difficult successor a few weeks back on the podcast, as Kevin & Matt seemingly had the same experience with the original game.
Timestamps:
SNKRX -  00:04:38
Alien Death Mob  -  00:10:57
Miles & Kilo  -  00:16:14
Mekabolt  -  00:22:05
Picross S Series  -  00:25:29
Yoshi's Crafted World & Captain Toad  -  00:34:25
Snakebird Primer  -  00:37:48
Thanks so much for taking the time to listen!  If you'd like to find us elsewhere on the internet, you can find us at:
Join us on Discord