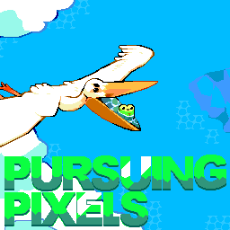 Welcome back to Pursuing Pixels.  This week, John & Kevin have a handful of awesome indies to highlight, alongside an updated all-time classic that slaps just as hard today as it did way back in 1999...so let's get right into it!
First things first, John kicks things off with Murder by Numbers, which was his 'resolution game' from last year's holiday episode.  John loves him a good Nonogram, but does this game add enough to the tried and true formula?
After that, Kevin takes some time to shoutout a few incredibly expressive platformers that we've been checking out alongside our friends in the Indie Game Collective.
Finally, we wrap things up by heaping more praise onto the fantastic THPS 1+2 HD remake, which John has been spending countless hours with on the Nintendo Switch!
Timestamps:
Murder by Numbers -  00:02:18
Expressive Platformers  -  00:17:14
↳  The Gardener and the Wild Vines  -  00:17:56
↳  Webbed  -  00:20:57
↳  Glyph  -  00:27:21
THPS 1+2 HD  -  00:30:02
Thanks so much for taking the time to listen!  If you'd like to find us elsewhere on the internet, you can find us at: