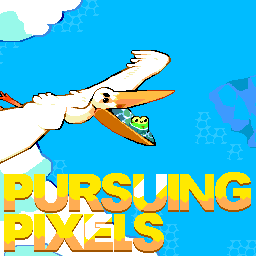 Welcome back to Pursuing Pixels.  DJ & Kevin are both getting their resolution games from 'Episode Number Holiday Edition 2019' in under the wire this week, before we start thinking about wrapping things up for 2020.
DJ gets us started with Deadbolt from Hopoo Games, stealth-driven action platformer that (mostly) lives up to our lofty expectations from the mighty Risk of Rain 1 & 2 devs!
Before Kevin gets to his own resolution, he takes a stab at Transistor from SuperGiant Games—after being both in love and overwhelmed by the intense combat in their latest release, Hades—and ends up plowing straight through it.  It was also John's resolution game, but he already talked about it earlier this year like a responsible human being.
After that, it's onto Undertale, which Kevin, unfortunately, bounced off of pretty hard.  However, it did get Randall to fire up the game for the first time and he ended up playing all the way through to the end, while DJ dives deep down the rabbit hole of 'multiple endings.'
Finally, we close things out with Ikenfell, another cheeky turn-based RPG with its own set of unique combat mechanics, pulling heavily from series like XCOM & Paper Mario.
*Ikenfell also has an INCREDIBLE original soundtrack and we were fortunate to sit down with two of the game's composers, Aivi Tran & Sabrielle Augustin, for a fun and informative conversation!  The interview episode will be coming SOON...stay tuned!*
Discussed:
Deadbolt (DJ's Resolution)  -  00:01:04

Transistor (John's Resolution)  -  00:05:27
Undertale (Kevin's Resolution)  -  00:08:26
Ikenfell  -  00:32:02
Thanks so much for taking the time to listen!  If you'd like to find us elsewhere on the internet, you can find us at:
Come and join us on our Discord server!