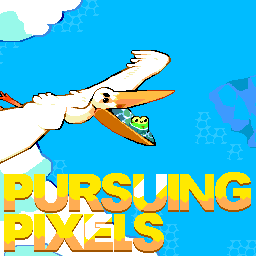 Welcome back to Pursuing Pixels.  We've got a whole bunch of video game goodness to gab about this week—and we're even semi-timely for a change, haha—so let's get right into it...
We kick things off with Goodboy Galaxy, a *brand new* metroidvania coming to the Game Boy Advance, cartridge and all!  We hang around on the classic Nintendo handheld for a little while longer, as Randall recently polished off Metroid Fusion, now he's finding more & more time to play games again, post-graduation!! :D
From there, Kevin & John get to take yet another stab at virtual reality, this time finally getting to see what Half-Life: Alyx is all about over at our buddy Mikee's place...
Finally, John closes things out with a duo of photography games, first sharing some more thoughts on New Pokémon Snap after it has received a free update or two, followed by a glowing endorsement for Umurangi Generation—a 'current-apocalyptic' first-person adventure off the beaten path!
Timestamps:
Goodboy Galaxy  -  00:01:26
Metroid Fusion  -  00:09:56
Half-Life: Alyx + VR  -  00:28:34
New Pokémon Snap  -  00:38:12
Umurangi Generation  -  00:44:12
Thanks so much for taking the time to listen!  If you'd like to find us elsewhere on the internet, you can find us at:
Join us on Discord