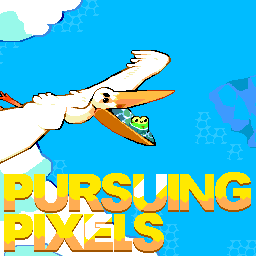 Welcome back to Pursuing Pixels.  We've got another jam-packed episode full of video games this week, so let's jump right into it!
DJ is still playing around with his brand new PS5 this week, kicking things off with a quick Demon's Souls update from last week, before digging into the wacky world of Bugsnax—and he's definitely got the rest of us intrigued!
From there, he also shares some brief thoughts on Eves Drop & Downwell, which are a couple of Kevin's favorite modern arcade games!  And speaking of awesome arcade games, Kevin also quickly highlights Slugcaster & Disc Gun—the latter being yet another entry to the Disc Room Game Jam that he likes more than the game the jam was based upon...
Kevin also had an absolute blast with a couple of puzzle platformers, Bombastic & Puzezl—the former offering up a perfectly balanced mix of precision and puzzle solving, while the latter won't necessarily be testing your platforming skills, but will certainly leave you scratching your head!
Randall is also still playing with his shiny new console and ends up getting entirely sucked into River City Girls, thanks to its availability on Xbox Game Pass—and also takes a little time to thanks the video game gods for supplying us with a smattering of awesome beat 'em ups in recent memory!
Finally, John closes us out for the week with a Hyrule Warriors: Age of Calamity gush-fest, and has Randall & Kevin ready to pull the trigger on picking up the latest game set in the Breath of the Wild universe!  After that, we end up talking all sorts of Zelda stuff after that as we wind things down, before wrapping things up for the week.
Timestamps:
Demon's Souls  -  00:01:15
Bugsnax  -  00:02:38
Downwell  -  00:06:23
Slugcaster  -  00:12:47

Disc Gun  -  00:14:08

Bombastic  -  00:16:27
Puzezl  -  00:18:06
River City Girls  -  00:20:48

Hyrule Warriors: Age of Calamity  -  00:27:15
Thanks so much for taking the time to listen!  If you'd like to find us elsewhere on the internet, you can find us at:
Come and join us on our Discord