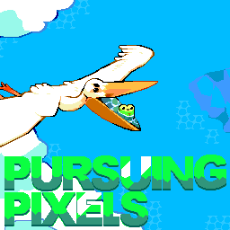 Welcome back to Pursuing Pixels.  John & Kevin warm up the mics by talking about their resolution games from our 2019 holiday episode.  John is actually digging into Transistor from Supergiant Games, while Kevin can't believe that Undertale is not available on Xbox One.
Kevin is still poking around on itch.io and stumbles across a unique developer named Daniel Linssen.  There's a fast-paced puzzler called Adrena-Line, along with a couple of unique 2D platformers—Outline & Birdsong.
John wraps us up by scratching the Final Fantasy Tactics itch with a new game on Switch, Fell Seal: Arbiter's Mark.  We springboard into a conversation about visual juxtaposition & cohesiveness from there, before calling it a night.
Timestamps:
Transistor  -  00:01:38
Undertale / Deltarune  -  00:05:55

Daniel Linssen  -  00:14:54
↳   Adrena-Line  -  00:15:19

↳   Outline  -  00:18:15

↳  Birdsong  -  00:20:05
Fell Seal: Arbiter's Mark  -  00:24:02
↳  Visual Juxtaposition & Coherence  -  00:37:00
Thanks so much for taking the time to listen!  If you'd like to find us elsewhere on the internet, you can find us at: