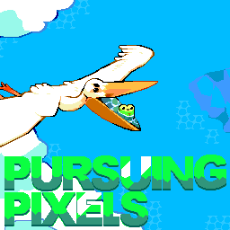 Welcome back to Pursuing Pixels.  You're stuck with Randall and Kevin again this week.  We kick things off with a quick Animal Crossing correction after a scolding from John in our Discord chat.
Kevin's still poking around on itch.io and stumbles across a couple of gems from developer, rxi.  SCANLINE is a roguelike run 'n' gun & Shuriken is a Game Boy-inspired mini metroidvania—both developed during game jams.
Randall & Kevin check out Dogurai from HungryBear, another Game Boy-inspired platformer.  This one is of the hack 'n' slash variety, and was also included in the itch.io Bundle for Racial Justice & Equality.
Randall 'smoothly' transitions into The Last of Us: Part II from there.  He's still not entirely gripped by the game's narrative, but there are some new gameplay twists that are keeping him involved, and coming back for more!
Kevin closes things out with a couple of titles from DYA Games that he's been playing on Nintendo Switch.  Super Star Path is an arcade shoot 'em up mixed with a match three puzzler, and Bot Vice is a gallery shooter akin to Wild Guns that, like its inspirations, doesn't shy away from a healthy challenge.
Timestamps:
Animal Crossing: New Horizons (*quick correction*)  -  00:00:55

rxi games  -  00:04:06
↳   SCANLINE  -  00:04:17

↳   Shuriken  -  00:09:08
Dogurai  -  00:12:39
The Last of Us: Part II  -  00:20:29
DYA Games  -  00:28:58
↳   Super Star Force  -  00:29:17

↳   Bot Vice  -  00:36:09
Thanks so much for taking the time to listen!  If you'd like to find us elsewhere on the internet, you can find us at: