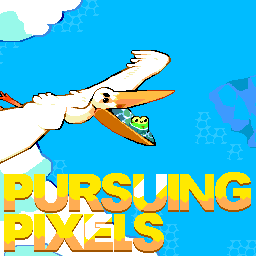 Welcome back to Pursuing Pixels.  We are absolutely jam-packed with video game goodness this week, so let's get right to it...
John kicks us off with some more Control talk, which leads into a general discussion about aerial combat in games after he tracks down his Daemon X Machina cartridge.
Kevin's been streaming a whole bunch of games on our Twitch channel lately and specifically carves out some time to discuss a couple more games that were included in the itchio Bundle for Racial Justice & Equality, Zone of Lacryma & Eves Drop.
Dj's been bouncing around a little bit himself, first polishing off Watch Dogs 2, and then plowing through Rise of the Tomb Raider in no time flat—let's just say, Nathan Drake is no Lara Croft!
Everyone but John has been sinking some serious time into Yooka-Laylee and the Impossible Lair and the three of us have some widely differing opinions on this modern 2D platformer.
Randall closes things out by selling all of us HARD on the TurboGrafx-16 Mini, one of the latest additions to the mini retro console lineup...though there's a pretty good chance you missed out on the vast majority of these games the first time around, just like we did!
Timestamps:
Control  -  00:03:41

Daemon X Machina  -  00:07:23
Kevin's Been Streaming..... -  00:13:46
-----> Alan Wake  -  00:13:46
-----> Kero Blaster (Omake mode)  -  00:15:04

-----> Donut County  -  00:15:17

-----> Zone of Lacryma  -  00:16:21
-----> Eves Drop  -  00:19:03
-----> 10S  -  00:22:48

Watch Dogs 2  -  00:23:59

Rise of the Tomb Raider  -  00:24:59
Yooka-Laylee and the Impossible Lair  -  00:27:37
TurboGrafx-16 Mini  -  00:45:02
Thanks so much for taking the time to listen!  If you'd like to find us elsewhere on the internet, you can find us at:
Come and join us on our Discord server!