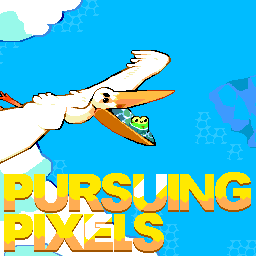 Welcome back to Pursuing Pixels.  We've got a full house again this week, and a whole bunch of video games to talk about, so let's get started...
DJ kicks us off with an update on Fall Guys: Ultimate Knockout and finds himself getting sucked back into the game after the Season 2 update—and after burning ourselves out last time it came up.  He also goes on a high-jinks-filled little adventure in Mom Hid My Game.
Kevin was really looking forward to checking out Disc Room, but ended up being pretty disappointed with how the game ended up coming together, in spite of its addictive gameplay mechanics.  That said, he checked out a couple of entries from the Disc Room Game Jam, Harvest Doom & Pigments, and ends up finding more of what he was looking for!  He also ripped through the original Celeste 'Classic' on the PICO-8 fantasy console.
Randall is moving us into the neo-retro realm, and also into the wide world of sports, as he recently started playing NHL '94 Rewind—a bonus retro classic courtesy of his NHL '21 pre-order!
John's been playing through the SNES All-Stars version of Super Mario Bros. 3 (for some reason?!?), and we inevitably end up going down the Mario rabbit hole (or warp pipe, perhaps?) to close out the episode this week...
Timestamps:
Fall Guys: Ultimate Knockout (Season 2)  -  00:01:09

Mom Hid My Game  -  00:06:38
Disc Room  -  00:09:34
Disc Room Game Jam  -  00:15:11

-----> Harvest Doom  -  00:16:12

-----> Pigments  -  00:17:55
Celeste 'Classic' on PICO-8  -  00:20:23
NHL '94 Rewind  -  00:21:43
Super Mario 3 / All-Stars / World  -  00:26:57

Thanks so much for taking the time to listen!  If you'd like to find us elsewhere on the internet, you can find us at:
Come and join us on our Discord server!