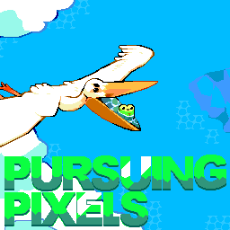 Welcome back to Pursuing Pixels.  We're a duo once again, with Randall tagging in for John this week.  Kevin wastes no time before correcting his failure to mention BREAKER from Daniel Linssen last week, yet another game included in the itch.io Bundle for Racial Justice & Equality.  Randall literally dips his toes into the latest Animal Crossing: New Horizons update, which introduces swimming into the mix.  He also finally gets into some Risk of Rain 2 after our incessant begging—and a massive new update that has the game running fantastic on Nintendo Switch!
Kevin talks about a few games from Matt Glanville, starting off with a couple of games that just came out on Switch.  Singled Out seems to be 'Guess Who?' in video game form...with a sniper rifle.  Ghost Grab 3000 is an insanely addictive arcade experience (with a grappling hook!?!) that is beyond difficult to put down.  And the same goes for Switch 'N' Shoot, a single-button shmup where 'one more run' never means 'one more run.'  All three games are available for Nintendo Switch and will only set you back $5 each!
Randall's been sinking most of his time into The Last of Us: Part II, which he's been enjoying on the whole, in spite of some hiccups in the story line along the way.  There's no need to worry about *spoilers* either, as Randall primarily highlights his main interest in the series...the gameplay.
Kevin wraps up the episode with a couple of bullet hell shooters form the itch.io bundle that he teased on least week's episode—Task Force Kampas & Risk System.  The former being a single credit, arcade experience, while the latter is a story-driven, 32-bit pixel art extravaganza; each one baking the concept of risk/reward straight into their core.
Timestamps:
BREAKER  -  00:01:25
Animal Crossing: New Horizons (update)  -  00:04:02

Risk of Rain 2 (update)  - 00:08:01
Matt Glanville games  -  00:14:03
↳   Singled Out  -  00:14:19

↳   Ghost Grab 3000  -  00:15:22

↳   Switch 'N' Shoot  -  00:19:41
The Last of Us: Part II  -  00:23:00
Task Force Kampas  -  00:30:58

Risk System  -  00:34:54
Thanks so much for taking the time to listen!  If you'd like to find us elsewhere on the internet, you can find us at: