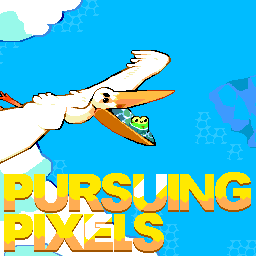 Welcome back to Pursuing Pixels.  We've got a full house again this week and we kick things off with our recent Fall Guys burnout—after DJ wins 30+ crowns?!?!
Kevin's highlights a couple of retro inspired indie games: [Speer] is an incredibly crafty single-screen platformer & Out of Ammo is a break 'em up inspired by ZeroRanger.
John & DJ were squeezing in some Civilization VI before recording last week and they dig into their specific playstyles while trying to convince Randall & Kevin to boot up their copies.
After finishing New Super Lucky's Tale, Kevin has an answer to Randall's question as to where it ranks among the best of the best 3D platformers...
We close things out with a discussion of our general video game buying & collecting habits these days, versus the convenience and value of digital downloads & subscription services.
Discussed:
Fall Guys: Ultimate Knockout  -  00:01:04

[Speer]  -  00:05:34

Out of Ammo  -  00:09:07
Civilization VI  -  00:12:56
New Super Lucky's Tale  -  00:28:15
Physical Copies // Digital Downloads  - 00:32:37
Thanks so much for taking the time to listen!  If you'd like to find us elsewhere on the internet, you can find us at:
Come and join us on our Discord server!