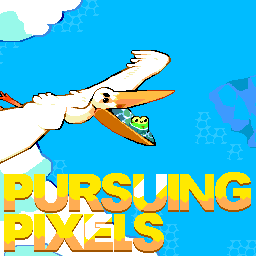 Welcome back to Pursuing Pixels...and welcome to our second annual, end-of-the-year, wrap-up episode!?!  [Click here for last year's episode!]
To close out 2020, we're highlighting a BUNCH of our favorite games that came up on the podcast over the course of the year—consider it our version of the GOTYs.  And we're closing things out by looking forward to 2021, each resolving to play something from each of our respective backlogs before the clock strikes 2022...
PP.GOTYs:
Kevin  -  00:02:10

---> Lonely Mountains: Downhill | Kero Blaster | Daniel Linssen & mmatt_ugh
Randall  -  00:11:54
---> AC:NH | Monster Boy & The Cursed Kingdom | Streets of Rage 4
DJ  -  00:23:32
---> Invisible, Inc. | Resident Evil VII: Biohazard | Hades
John  -  00:31:07

---> Animal Crossing: New Horizons | Hades | A Short Hike
2021 Resolutions:
John: Murder by Numbers  -  00:41:36
DJ: Deltarune   -  00:42:47
Randall: Ori and the Will of the Wisps  -  00:43:47
Kevin: Hyper Light Drifter  -  00:45:00

Thanks so much for taking the time to listen!  If you'd like to find us elsewhere on the internet, you can find us at:
Come and join us on our Discord server!