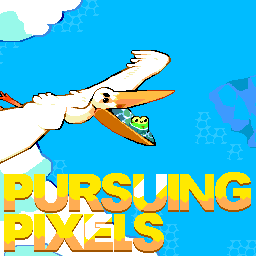 Welcome back to Pursuing Pixels.  We're breaking the mold once again this week, as we were fortunate enough to have the opportunity to chat with Aivi Tran & Sabrielle Augustin—two of the composers of the fabulous Ikenfell soundtrack!
We talked about Ikenfell on the podcast a few week's back and the OST was certainly one of the standout feature of the game, for a multitude of reasons! 
We keep it (mostly) *spoiler-free* as we dig deep into the inspirations behind the soundtrack, how this masterful team of composers & musicians came together, and get to know two of the artists behind the game a little bit better!
Thanks again so much to Aivi & Sabrielle for taking the time to sit down & chat with us!  Please check out their work(s), Ikenfell and beyond.
Thanks so much for taking the time to listen!  If you'd like to find us elsewhere on the internet, you can find us at:
Come and join us on our Discord server!