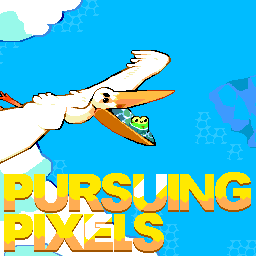 Welcome back to Pursuing Pixels.  We've finally got the usual trifecta back together, just in time to get into our most recent online session with Risk of Rain 2.  Before we get into that though, Randall follows up with his thoughts on Bot Vice after Kevin's high praise last week.
The GMTK Game Jam 2020 wrapped up this weekend and Kevin checked out a small sampling of the whopping 5,000+ submissions.  Rotational Shift & Pongeon are a pair of single-screen arcade games; You Are Now Possessed & Pink River earned the #1 & #3 spots, respectively, on the overall charts.
John is exploring an alien ocean and cataloguing his discoveries with In Other Waters; a gorgeous, entirely UI-based, narrative adventure.  Randall wraps things up with a retro deep cut, The Immortal, an NES title none of us were familiar with prior to its recent addition to the Nintendo Switch Online service.
Discussed:
Bot Vice  -  00:01:17

Risk of Rain 2  -  00:08:05
GMTK Game Jam 2020  -  00:19:50
----->  Rotational Shift  -  00:20:55

----->  Pongeon  -  00:22:34
----->  You Are Now Possessed  -  00:24:28

----->  Pink River  -  00:26:14
In Other Waters  -  00:29:56
The Immortal (NES on Switch)  -  00:37:29
Thanks so much for taking the time to listen!  If you'd like to find us elsewhere on the internet, you can find us at:
Come and join us on our Discord server!