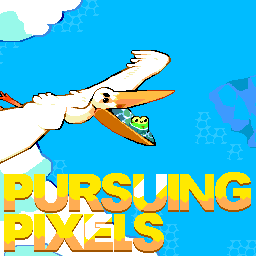 Welcome back to Pursuing Pixels.  We're getting straight to the point this week, and keeping things short and sweet.
Kevin kicks things off with the demo for Akurra, an upcoming Game Boy Color-inspired puzzle adventure.  He wraps up the episode with yet another demo for Emuurom, an upcoming game for the TIC-80 fantasy console.
Before we get to that, John discusses the Picross S trilogy of games on Nintendo Switch, and is on the hunt for the next innovation to the nonogram formula.  And Randall is still chipping away at Monster Boy & The Cursed Kingdom—and he's still raving about it!  We'll be playing this one for a while.
Discussed:
Akurra  -  00:01:39

Monster Boy & The Cursed Kingdom  -  00:08:36
Picross S series  -  00:16:21
Emuurom  -  00:26:27
Thanks so much for taking the time to listen!  If you'd like to find us elsewhere on the internet, you can find us at:
Come and join us on our Discord server!