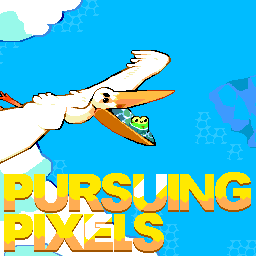 Welcome back to Pursuing Pixels.  We're back with a full house again this week, and we kick things off with a little gaming session in the clouds!
John snagged Control on Switch immediately after it was announced, during the most recent Nintendo Direct.  He shares his initial thoughts on both the game, and the prospect of streaming games over the interweb.
Kevin & Randall are getting their asses handed to them by Sky Racket, a tennis-inspired bullet hell shmup that's bursting with character!
Kevin also circles back around to briefly mention a couple of games he's finished off recently, Gato Roboto & Kero Blaster, before digging into his latest arcade obsession, Null Drifter.
DJ closes us out with a trio of games as well, beginning with follow-ups to our conversations on Undertale & Haque, before getting into his initial thoughts on Watch Dogs 2 after checking out the trial...
Timestamps:
Control (on Nintendo Switch)  -  00:01:44

Sky Racket  -  00:17:23
Gato Roboto  -  00:26:48
Kero Blaster  -  00:28:07

Null Drifter  -  00:29:22

Undertale  -  00:34:04
Haque  -  00:39:57
Watch Dogs 2  -  00:43:40

Thanks so much for taking the time to listen!  If you'd like to find us elsewhere on the internet, you can find us at:
Come and join us on our Discord server!